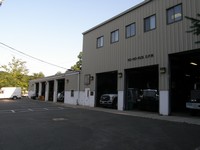 Department of Public Works
23 Hollywood Avenue
Hours of operation 7:00 am - 3:30 pm, Mon-Fri
Recycling Center: 8:00am - 3:00pm, Mon-Fri and Saturday 8:00am - 2:00pm
For almost a hundred years, the Department of Public Works has grown from a very limited road department to a department that today includes multi-responsibilities to better serve the residents. The history of the department is a fascinating one beginning when each house in the Borough of Orville, as we were named then, had its own well or cistern. There were no parks, no borough facilities, no sanitary sewer system and no recycling. There were no paved roads and the "road master", who was a volunteer, attempted to maintain some roads in some seasons but never in winter. The original road department building was constructed in the early 1940's with used lumber salvaged from the old school house on the Sheridan Avenue site – now the location of the fire department and a first employee, Herman Merguson, was appointed in 1930 as a utility man.
The Department of Public Works officially was established in 1970 changing from a road department into a branch of the municipal government with multi-responsibilities. These responsibilities include: maintenance of all borough buildings – borough hall, police, fire and ambulance wings. library, and the DPW building; the train station; five water pump houses, four sewer pump stations, in excess of thirty miles of sanitary and storm sewers, cleaning and maintaining of storm catch basins; over thirty miles of streets, snow and leaf removal; approximately three thousand shade trees; vehicle maintenance of police, ambulance and borough vehicles; recycling program which includes hauling of five thirty yard boxes of recycling a week; six borough parks.
A water distribution system was constructed in 1906 and originally the borough bought its water from the Bergen Aqueduct Company, the Ridgewood Water and Waldwick Water. It was in 1954 construction was completed on the first two wells and the borough became water independent.
Today we own and operate:
two water treatment facilities;

over thirty miles of water mains that vary in size from four inches to twelve inches

two hundred twenty five fire hydrants

1523 water connections are serviced

our present allocation is 280 million gallons per year
The mayor and council encourages its employees to attend technical schools for the purpose of obtaining the necessary state licenses to operate the water and sanitary systems. The attainment of these licenses is under the strict guidelines of the New Jersey Department of Environmental Protection. Employees also attend classes to qualify for emergency personnel in the fire and ambulance areas.
Management
Jeff Pattman: Superintendent of Public Works - W1 License, Certified Public Works Manager, Certified Recycling Professional, Volunteer Firefighter and Ambulance

Dan Priestner: Licensed Operator of Record – Holds W2,T2 &C2 License's


Maintenance Personnel
Rich Vande Weert: Laborer, CDL

Gary Tyler: Laborer, Distribution, Treatment, Heavy Equipment, CDL, Volunteer EMT

Jason Siebel: Holds T2, W2, and C2 Licenses. Laborer, Distribution, Treatment, Heavy Equipment, CDL, Volunteer Firefighter

Darryl Zawadzki: Holds T2, W2, and C2 Licenses. Laborer, Distribution, Treatment, Heavy Equipment, CDL

Ronald Pisano: Pesticide Licenses,Core,3-A Ornamental,3-B Turf, Laborer, Distribution, Treatment, Heavy Equipment, CDL

John Vanderzee: Laborer, CDL

Jose Martinez: Custodian