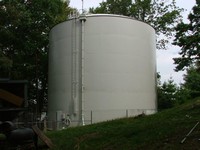 One of three water towers here in Ho-Ho-Kus

Lisa Perricelli 201-652-4400 Ext. 230
Water Registrar

Dan Priestner 201-445-8161 Ext. 410
priestnerd@ho-ho-kusboro.com
Licensed Operator of Records

The water registrar is available for any billing questions between 8:30 am and 4:30 pm at the Borough Hall. Should you have questions regarding a technical issue please contact Dan Priestner at the DPW.


Billing
Water bills are mailed out quarterly by - April 15th, July 15th, October 15th and January 15th. Bills are generated by readings obtained March 31st, June 30th, September 30th and December 31st, by a remote radio control system operated by the Department of Public Works.
Lawn Sprinkling - NO SPRINKLING ON MONDAYS
Problems
If you have problems with your meter please call the Borough Hall Water Office at 201-652-4400 ext 230 to schedule an appointment. If emergency services are needed after hours, call the Police Department at 201-652-1700. Please be advised that if it is not a borough problem you will be charged for the three-hour minimum for the employee